This blueberry mug cake is to die for! It is so easy to make, takes 2 minutes in the microwave, and is gluten-free and high protein. I make this easy blueberry muffin mug cake all the time! It tastes like a blueberry muffin in a mug. It's a yummy and healthy breakfast recipe, healthy snack or dessert.
This post may contain affiliate links. Please read my disclosure for more info.
Super yummy blueberry mug muffin
This blueberry mug cake recipe came about because of laziness.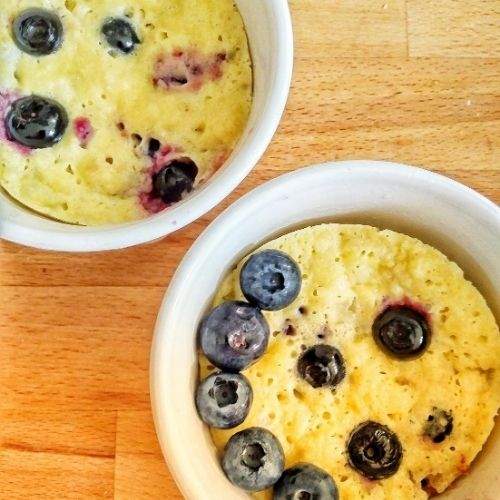 I had a whole ton of gorgeous blueberries sitting in a bowl all ripe. Even though me and Miss O were gobbling up those blueberries by the fistful, there were still lots of berries left and I wanted to bake with them.
I was craving blueberry muffins, but didn't want to turn on a hot oven on a hot day…
Then I thought about making single serving blueberry muffins in the microwave and this recipe was born!
It makes two servings or one giant serving. I prefer two servings because it's easier to cook that way. Doesn't mean you have to share the second one 😉 (though I did this morning with Miss O)
This blueberry mug cake takes 2 minutes to cook, no oven is needed, and only a handful of basic ingredients. You have to try it! You also might want to try my other blueberry mug recipe – it's a blueberry muffin in a mug and is very different from the recipe we'll make today!
Other mug cake recipes to try
If you've been around here for a while you will know of my love for mug cake recipes.
If you're a huge mug cake fan too, check out these other delicious mug cake recipes:
What you need to make this blueberry mug cake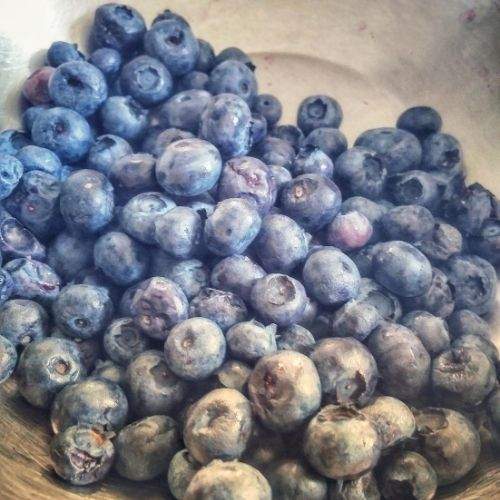 Not much, really!
3 minutes of your time (half of that is cooking time)
an egg (free range preferably)
a banana
almond flour (this one is good but this recipe is so forgiving you really can use any brand)
fresh blueberries
Blueberry mug cake substitutions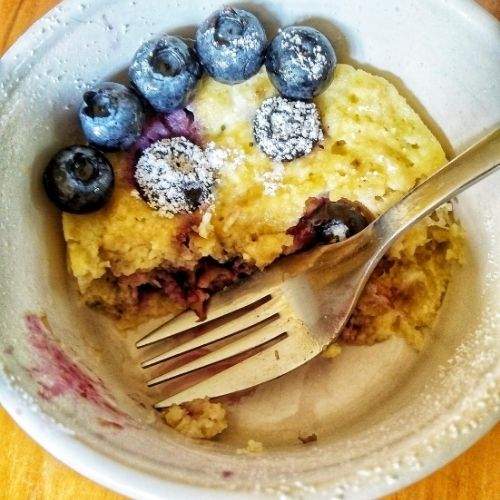 You can substitute regular flour for the almond flour. It will have a different texture and less protein but will still be delicious. You might need to add another 30 seconds of cooking time.
You can use frozen blueberries in this blueberry mug muffin recipe but you'll need to add a bit more time on the microwave (start with another 30 seconds). Or you could thaw the frozen blueberries and follow the rest of the recipe as is.
You don't really taste the banana in this recipe, it just gives natural sweetness without adding sugar. If you are not into bananas, you can substitute with an individual pack of applesauce (about 1/4 cup).
Cooking time will vary with different microwaves, different flour, and mug size. I usually use wider mouth mugs to make mug cakes because they cook more evenly. If you use a narrower mug, you'll probably need to add a bit more time.
Watch your mug cakes the first time you cook them so they don't overflow. Once you get an idea of how long it takes to cook in your microwave, you won't need to watch it. Though it's just a minute anyways!
Hey mug cake lova lova! Try out our new funfetti mug cake and have a party in your mouth!
⇓ Pin this blueberry mug muffin recipe to save it for later ⇓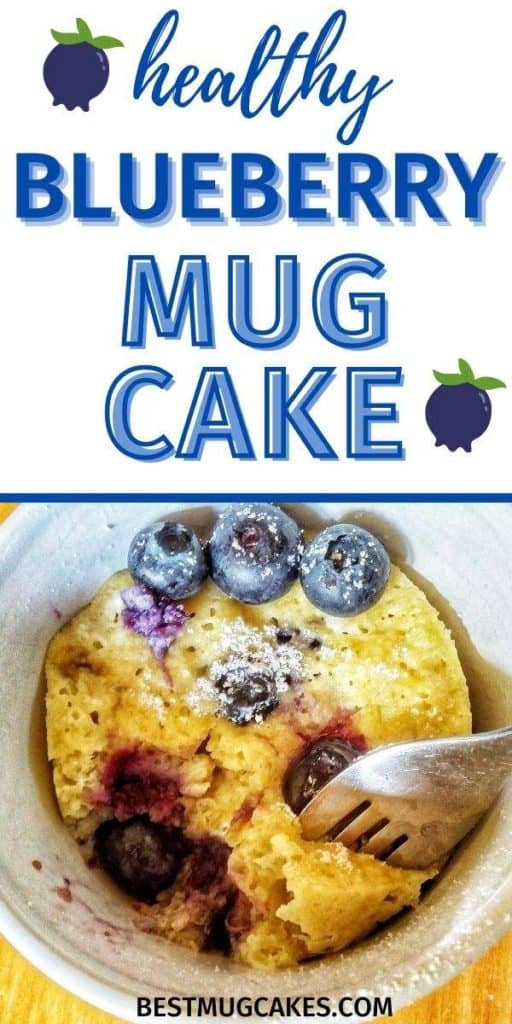 I hope you love this blueberry mug cake!